Orchestra in Europe
by Eric D. Anderson

How clearly I remember my first day as a member of the Andrews University Orchestra. I was sitting in the last chair of the second violins, but I felt privileged to be there! Chills ran down my spine as we launched into the Brahms Violin Concerto, with my violin teacher, Dr. Charles Davis, on the podium. We were playing some of the greatest music ever to emerge from the mind of man, and I, a fourteen year old kid, was a part of that creation! I suppose that it's that same feeling that has me still playing and still being thrilled twenty-six years later.

When I first heard that we would tour Europe in the spring of 2006, the thrill was naturally compounded. But high as our expectations were, they couldn't hold a candle to the reality, as this past May, we crisscrossed paths where so many of the great composers had walked and written their music.

We flew into Milan, home of Italy's greatest music conservatory, and home to the legendary opera house La Scala, where Puccini's Madama Butterfly, whose music we'd played this past season, was first staged. On our very first evening in Europe, we explored Venice in the twilight, and there Dr. Gonzalez showed us the church where Antonio Vivaldi had worked as both priest and composer. Over the next two weeks we visited Cremona, where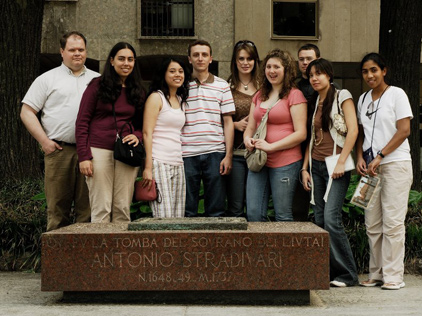 Antonio Stradivari created the world's greatest violins, walked in the footsteps of Wolfgang Amadeus Mozart, from the house where he was born to the magnificent Baroque church where some of his divine music was first heard, and spent time in the Tirol, where the soaring Alpine peaks inspired so many of the astonishing scores of Richard Strauss and Gustav Mahler only a brief century ago. We visited medieval Nuremburg, the home of Richard Wagner's Meistersingers (and their historical counterparts), and, on an idyllic island framed by majestic peaks we toured Herrenchiemsee, one of the extravagant palaces of Wagner's devoted patron, King Ludwig II of Bavaria.

Great music sounds fantastic anywhere. But playing it in a hilltop villa built by the Medicis overlooking Florence puts it in a whole new perspective!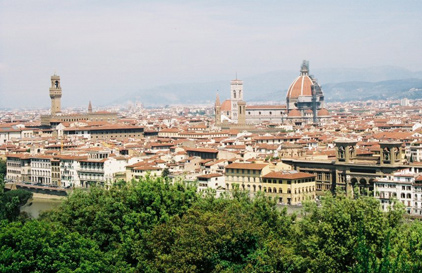 Here, great music had found its homeland—the place of its birth, and this feeling was reinforced by the wonderful reception our performances found everywhere we played. Whether in the conservatory at Padua (which understandably made us a little nervous), or at Adventist institutions in Italy, Austria, and Germany, or at the magnificent 1897 neo-gothic protestant cathedral where we played in Strasbourg, we had big audiences who applauded our efforts with an enthusiasm we weren't used to.

Yet for all the wonderful musical associations, there were things which made an even greater impression. I'd seen pictures of Venice's Basilica di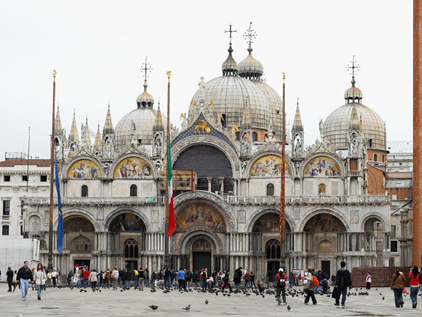 San Marco and the Basilica di Santa Maria del Fiore in Florence many times. But those photographs never prepared me for what I saw with my own eyes. San Marco in particular struck me with its size and glory first built nearly 1000 years ago, it must be many times the size of our own dear Pioneer Memorial Church. Its exterior was crafted of many-colored marbles, and its interior walls, arches, and domes were covered every inch of it them with intricate mosaics depicting the saints, apostles, visions of Mary and Christ, etc. I was particularly taken with an extravagant depiction of a dragon with seven heads and ten horns which had seemingly flown out of the book of Revelation and taken residence along a one wall of the church! All this was framed with unnumbered tiles of gold which dazzled the eye. There also I stood reverently facing tomb of St. Mark, whose remains are buried there. It made a deep impression on me.

As we traveled from city to city, town to town, each had a church of unexpected magnificence. But it wasn't just the beauty of the churches which struck me, but rather the growing realization of what a remarkable force Christianity had once been in Europe. The "Age of Faith" had seen the wealth of Europe and its greatest artists, architects, and musicians labor in the service of Christianity. But now these vast edifices housed but a few straggling worshipers, who lit their candles in a corner while crowds of tourists trampled by, gawking. It was sad. And it occurred to me that we, as members of a Christian orchestra, were the inheritors of two great traditions not simply the great heritage of music which stretches back to the dawn of Western civilization, and which was so effusively honored by audiences everywhere we went but also a spiritual heritage which has been abandoned by so many, and perhaps abandoned in Europe more than anywhere. What about our service, and our art? Was it merely entertainment? What would we do for God and for our faith, and how would our efforts compare to these giants of the past? It was a sobering thought.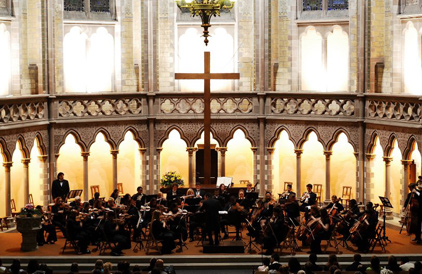 - Orchestra performing in St. Pauls Cathedral.

But I think that our efforts, at least on this tour, did accomplish something. At all the Adventist institutions where we played, much appreciation was expressed by our hosts. We were told that our visit meant something to the church in Europe, where Adventism is often seen as some kind of weird cult. Bringing non-believers to an Adventist church or school to see an accomplished orchestra made up of Adventist students was bound to make a positive impression on the community. Everywhere we were enthusiastically invited to return as soon as possible. And if what I believe has any meaning, then I know that God has never given up on the Europe, the first cradle of Christianity.

On our first Sabbath, we traveled to the grounds of Florence's Pitti Palace for our morning service, and in this park-like setting, we sang our Christian songs. Before long, a middle aged couple and a young girl had joined us. The girl even sat down with the group to listen to Amazing Grace. After a couple of songs they departed. But I couldn't help but wonder what they thought, and what had attracted them to our group.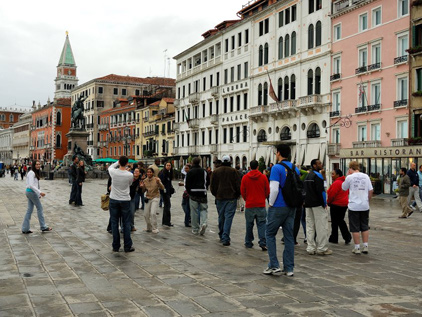 - A group of students walking in Venice.

An added bonus for me, and doubtless for many others on the tour, was how well I came to know my fellow orchestra members. Many had previously been mere acquaintances, but now I count several of them as good friends. Even my roommate for the trip, Dr. Gunter Koch who, believe it or not, was my stand partner on that very first evening as a member of the A. U. Orchestra 26 years ago made me realize that despite knowing him and playing with him for many years, I'd only known him in part. Though he is twice my age, I came to realize that he also has twice my level of energy. What fun we had!

Next year, I believe we'll be a better orchestra because of our travels together, with a greater appreciation of our musical heritage, our faith, the world, and each other. Now I truly hope that our home audience will grow in size and enthusiasm to match our European audiences. Let me invite you to give us a try. I don't think you'll be disappointed.