Carla Trynchuk
2015 Horn Award —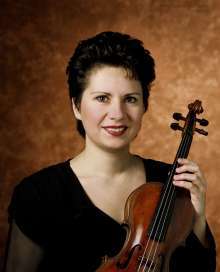 Arts, Humanities and Education
Carla Trynchuk, professor of music and string area coordinator, is a graduate from The Juilliard School of Music. Since 1985, her career features an uninterrupted record of performances as a soloist with orchestras, and solo and chamber music recitals, in the U.S., Canada, Europe and Asia. She has a vast repertoire of major violin concertos by composers from the Baroque, Classical, Romantic and 20th-century eras, including a number of American contemporary composers.
Her accomplishments also include recordings, one of which features premiere performances of 20th-century music.
Carla is also a sought-after guest artist/scholar for master classes, sharing her artistic, performance and teaching insights all around the world. She is often asked to adjudicate at regional and national string competitions while her own students have won many awards and accomplishments. She regularly participates in community outreach programs, as guest artist in demonstration recitals at Southwestern Michigan Public Schools.