2016 Siegfried H. Horn Award for Excellence in Research and Creative Scholarship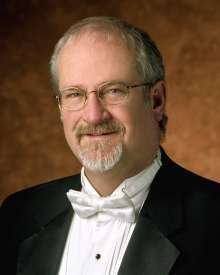 Award Category: Arts, Humanities and Education
Stephen Zork
Associate Professor of Music (Choir and Voice)
Conductor, University Singers
College of Arts and Sciences
Stephen Zork, associate professor of music, exhibits a remarkable breadth in his creative work, which includes significant performances and recordings as a conductor, singer and pianist.
Stephen regularly conducts concerts, clinics and workshops at a broad variety of venues across the United States. He has been an invited festival conductor, workshop clinician, and guest lecturer around the world. Stephen is also active as a soloist, singing in major oratorio and opera productions, and has served as adjudicator for regional vocal competitions.
The achievements of his students speak to his dedication to the apprenticeship model of artistic scholarship. His graduates are widely sought for advanced study and a variety of conductor positions
worldwide.