2017 Siegfried H. Horn Award for Excellence in Research and Creative Scholarship
Award Category: Professional Programs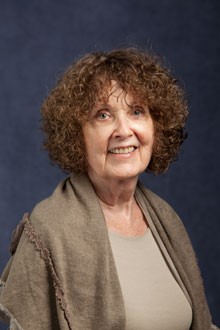 Kathleen Demsky
Director, Architecture Resource Center
Associate Professor of Library Science
College of Arts and Sciences
Kathy Demsky, associate professor of library science and director of the Architecture Resource Center, a branch of the James White Library, is a gifted librarian who has conducted research in Waldensian beliefs and the literature of environmental design research.
Carey Carscallen, dean of the School of Architecture & Interior Design, states: "Kathy's passion for the study of the faith and history of the Waldensian people has made her an authority on the subject, and every year she leads a group of students and friends of the school on a life-changing tour of the mountains and valleys in Italy where so many Waldensians lived out their faith to the very end."
In October 2003, Kathy edited "The Faith and History of the Waldensians: Sketches and Journal Entries by the Students of the Division of Architecture 1998–2001."
From 1987–2016, Kathy produced an annual book display and bibliography for the Environmental Design Research Association (EDRA) Conference. As the official repository of EDRA materials the ARC has developed a world-renowned collection. In 2008, she was guest editor and co-authored "Environmental Design Research, the field of study and guide to the literature" in the winter issue of the Journal of Architectural and Planning Research. In 2016 she was honored for her contribution to the spiritual life of Andrews.
Kathy also serves as secretary of the Andrews University Arboretum Advisory Council and is past president of the Association of Architecture School Librarians.
Professor Demsky gave a plenary presentation at the 2017 Celebration of Research & Creative Scholarship. Her presentation, titled "The Waldensians: A Story of Faith and Survival" (abstract), can be viewed on YouTube.