National Collegiate Honors Council Conference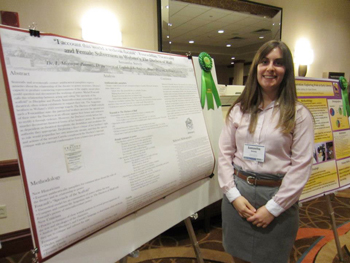 Samantha Snively, a senior English major and J.N. Andrews Scholar, presented her senior Honors project research poster at the National Collegiate Honors Council Conference in Boston in mid-November of 2012 and won first place in her category.
Snively's poster was entitled "'I account this world a tedious theatre': Foucauldian Theatricality and Female Subversion in Webster's The Duchess of Malfi." The poster, one of about 50 submitted in the category, won first place for Best Poster in the Arts & Humanities. Dr. Monique Pittman, director of the J.N. Andrews Honors Program and associate professor of English, was the research advisor for the project. View Andrews News Listing
The National Collegiate Honors is a professional association of undergraduate honors programs and colleges. Its mission is to support and enhance the community of educational institutions, professionals, and students who participate in collegiate Honors education around the world. View more information
.