2014 Siegfried H. Horn Award for Excellence in Research and Creative Scholarship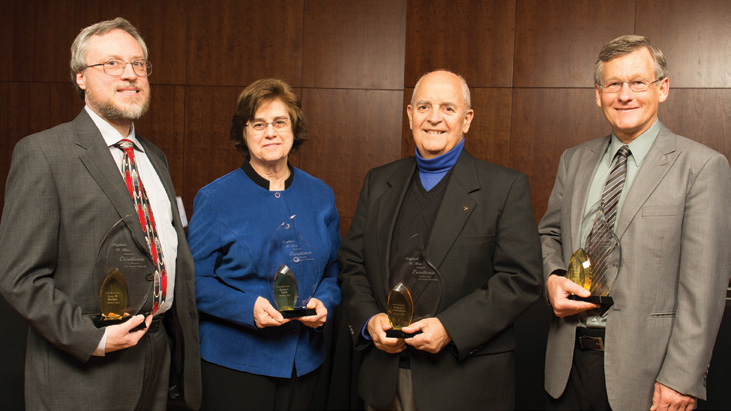 Recipients from left to right: Gary Burdick, Marcia Kilsby, Greg Constantine, and Roy Gane.
Access citations below.
This year's annual Faculty/Staff awards night, held Sunday, March 2, at the Howard Performing Arts Center primarily gave recognition to faculty and staff "stars" through awards for Years-of-Service, Excellence in Service, Faith Development Leadership, Excellence in Teaching and Excellence in Research & Creative Scholarship. The evening's entertainment also focused on "stardom" from among Andrews faculty and staff in a five-act variety show.
Award Category: Pure & Applied Sciences
Gary Burdick
Professor of Physics
College of Arts and Sciences
Associate Dean for Research, School of Graduate Studies & Research
Citation

Award Category: Professional Programs
Marcia Kilsby
Associate Professor in Immunohematology and Transfusion Medicine
Chair, Department of Medical Laboratory Sciences
Program Director, Andrews University Program for Medical Laboratory Sciences
Citation

Award Category: Arts, Humanities & Education
Greg Constantine
Emeritus Research Professor of Art
Artist-in-Residence
Citation


Award Category: Religion & Theology
Roy Gane
Professor of Hebrew Bible & Ancient Near Eastern Languages
Seventh-day Adventist Theological Seminary
Citation