Andrews Autumn Conference on Religion and Science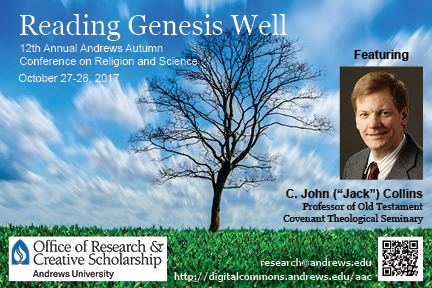 The annual Andrews Autumn Conference on Religion and Science is a function of the Midwest Religion and Science Society. Those organizing and presenting at the conference represent a variety of faith backgrounds including Seventh-day Adventist, Anabaptist, Church of the Brethren, and Catholic. The forum takes place in the Science Complex on a Saturday in October.
Previous speakers include Andrews professors Karl Bailey, Ante Jeroncic, Gary Burdick and Martin Hanna, as well as Richard Rice (Loma Linda University), Carl Helrich and Paul Keim (Goshen College), Greg Boyd (Woodland Hills Church), Darrell Falk (Point Loma University), Todd Wood (Core Academy of Science), Michael Gulker (The Colossian Forum), Earl Kumfer (St. Francis University), and Steve Harnish (Bluffton University).
2017
The 2017 conference will be held October 27-28. The featured speaker will be Jack Collins, professor of Old Testament at Covenant Theological Seminary.
Contact Person: Gary Burdick, research@andrews.edu