Exploring the Composition of the Pentateuch
The Horn Lectureship Series Presents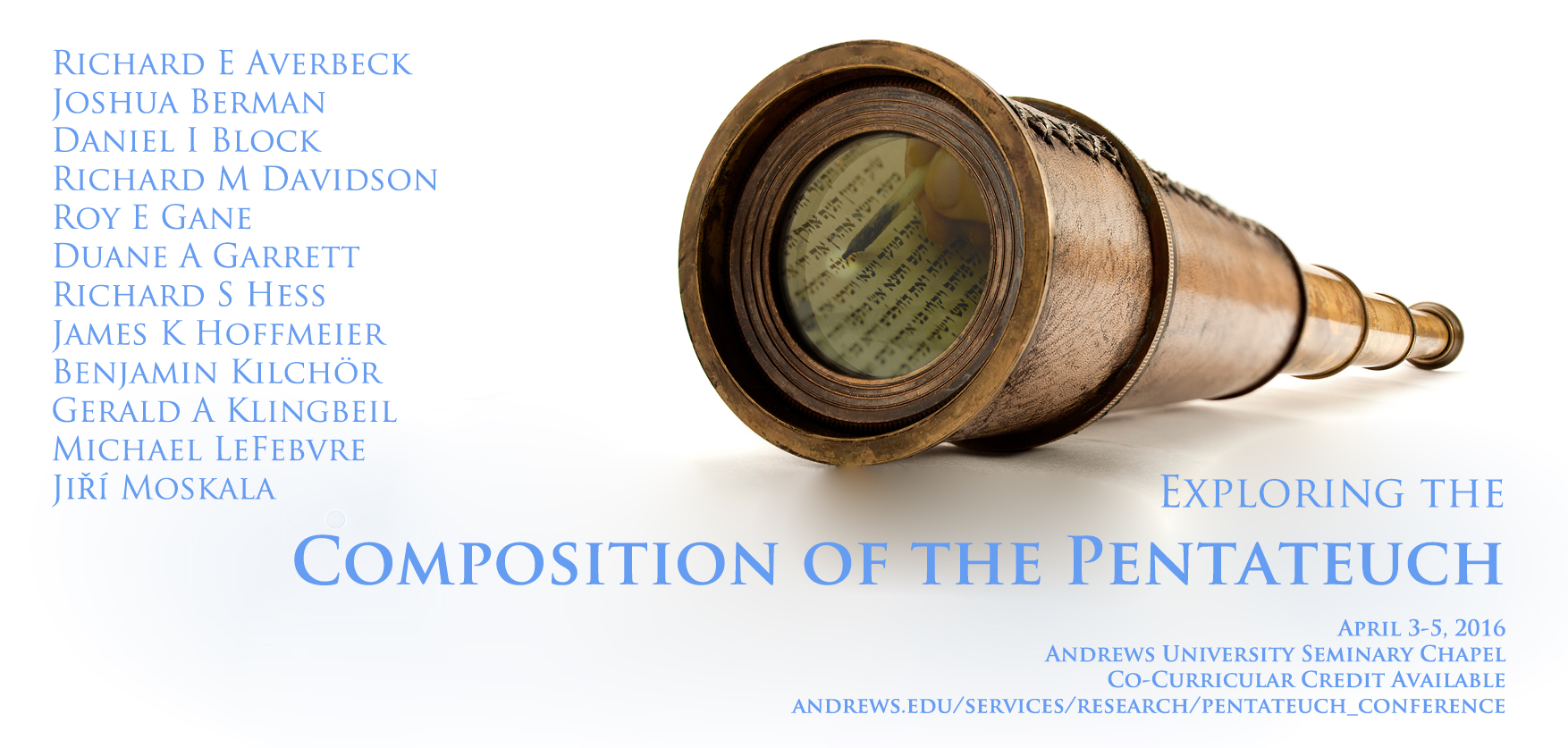 March 25-26, 2018
At present there is major divergence among scholars studying the composition of the Pentateuch. The Documentary Hypothesis as the former dominant theory is now being revised and criticized, and alternative approaches are suggested. For the conference "Exploring the Composition of the Pentateuch," we have invited respected scholars to dialogue on how to approach the question of the composition of the Pentateuch. This conference has the promise of contributing to scholarship in general on this topic at a time when many scholars are groping for good answers.
Public lectures will occur from 5:00-7:30 pm on Sunday, March 25, and 7:00-9:00 pm on Monday, March 26. The conference is free to all attendees. Attendees are responsible for their own food, lodging, and transportation.
Information for the 2018 program and presentations will be available on the Digital Commons website.
Presenters for the 2016 conference included Richard E. Averbeck (Trinity Evangelical Divinity School), John Bergsma (Franciscan University of Steubenville) Joshua Berman (Bar-Ilan University), Daniel I. Block (Wheaton College), Richard M. Davidson (Andrews University), Roy E. Gane (Andrews University), Duane A. Garrett (The Southern Baptist Theological Seminary), Richard S. Hess (Denver Seminary), James K. Hoffmeier (Trinity Evangelical Divinity School), Benjamin Kilchör (Staatsunabhangige Theologische Hochschule Basel), Gerald A. Klingbeil (Andrews University, Adventist Review), Michael LeFebvre (Christ Church Reformed Presbyterian), and Jiří Moskala (Andrews University), as well as other Andrews University faculty and PhD students.
Program
2018 Program: Coming soon
2016 Program: View program on Digital Commons
Registration
No registration is required.
Lodging
Unfortunately, all the on-campus guest rooms have already been booked. Other lodging options are available on the Off-campus Lodging Website. Most local hotels offer 10-20% discounts for guests of Andrews University (mention the university when you make your reservation).
Food
Our campus has a wonderful cafeteria located on the second floor of the Campus Center. The daily menu and all-you-can-eat pricing (breakfast approx $7.75; lunch and supper approx $9.25) is available on the Dining Services Website. If you would like to dine off-campus, please visit the Dining Off-Campus Website. The nearest off-campus restaurants include the following:
Baguette de France (gourmet sandwhich cafe)
Beijing Palace (Chinese buffet)
Cafe de 31 (soup and sandwhich cafe)
Hoppers Family Restaurant (American)
McDonalds
Nicky's (American)
Panera
Pizza Hut
Roma's Pizzeria
Subway
Taco Bell
Wolf's Prairie (American)
Campus Map
The Conference will take place primarily in the Seminary Building. Download Campus Map
Internet
Internet is available in all buildings on campus. View instructions for accessing Andrews University Wifi under "AU-Guest."