ITS Service Desk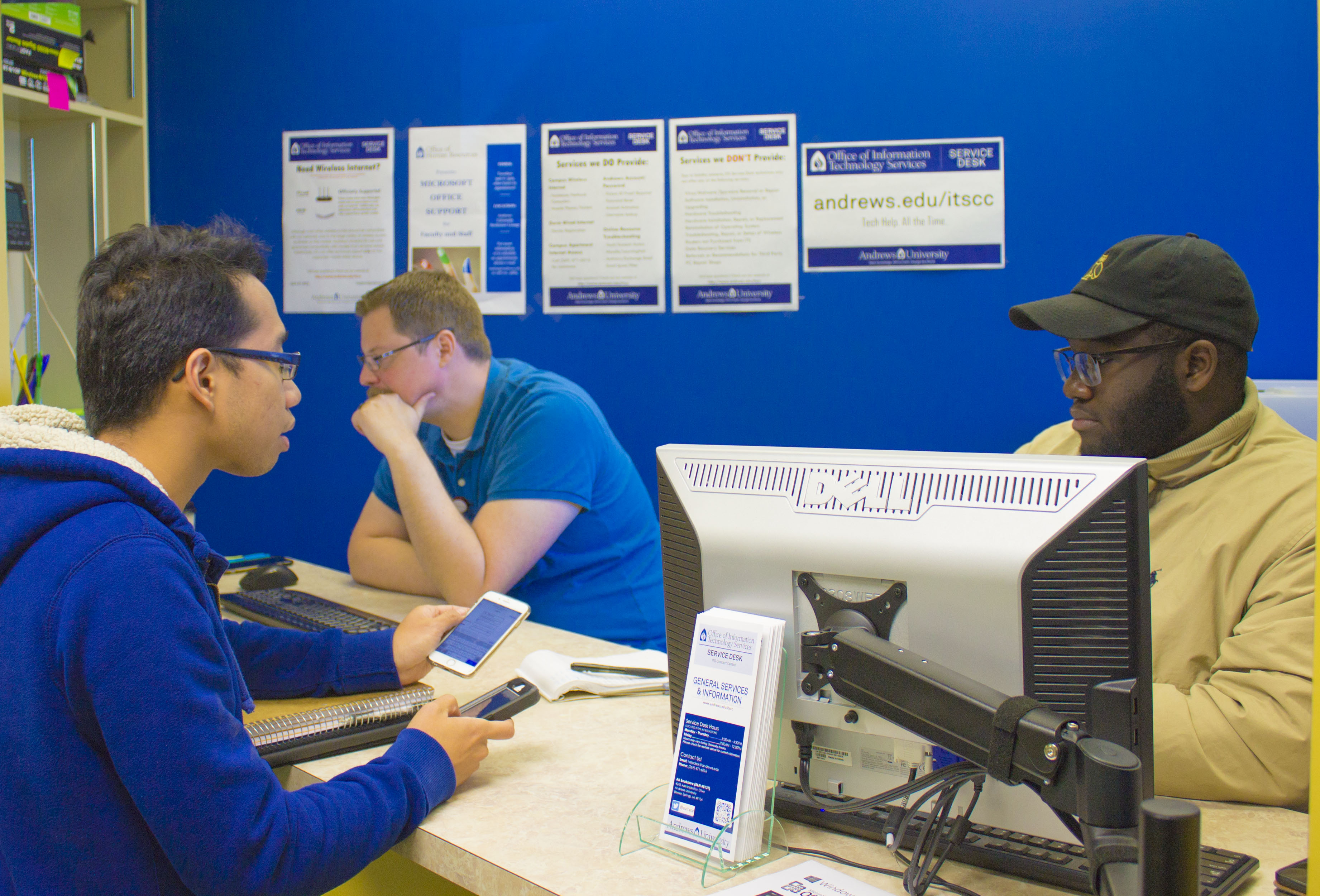 Services We Offer
Walk-in services for:
Connecting mobile devices to Andrews University wireless networks
Device registration
Andrews username and password troubleshooting, including password reset and access issues
Andrews email systems troubleshooting (AU Gmail and Exchange)
Tech support for Andrews University apartments including modem connectivity and troubleshooting
Offer basic (limited) advice on various technical concerns, computing issues and potential system purchases
We are unable to offer the following services:
Virus/malware removal
Hardware installation, repair and replacement
Software installation and upgrading including reinstallation of operating systems
Troubleshooting, repair and setup of wireless routers not listed under the preferred wireless routers list
Data recovery services
Hours of Operation
SERVICE DISRUPTIONS DUE TO COVID-19
Since March 23, the University has transitioned to remote working and online classes. Students and employees have been encouraged to study and work from home during this period. Visit the Andrews University COVID-19 web resource for more information.

Faculty and Staff are encouraged to open a work order directly at helpdesk.andrews.edu.
For common issues related to email and working from home, please check information and how-to guides found at andrews.edu/itscc.
For all others, we recommend contacting us by emailing helpdesk@andrews.edu. Please leave a voicemail. A live operator may not be available to answer your call; however, we do our best to check and respond to messages within the hour during the following times:
Monday -Thursday 9am-12noon & 1-4pm
Friday 9am-12noon
Please proivde your Andrews University ID# and as much detail as possible when leaving a voicemail or email. If you require assistance with LearningHub, please contact DLIT at 269-471-3960 or dlit@andrews.edu.
Can't stop by the Service Desk? Email helpdesk@andrews.edu or call 269-471-6016 during regular phone hours.